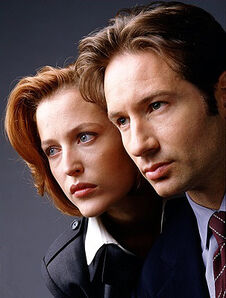 XF_10-13 Wiki is the archive and record for the collabarative effort made by a group of writers to come up with four new seasons of The X-Files, post-The Truth. Every new episode, character, place and event will be put here. This is entirely fan fiction.
Imagine if the X-Files had not ended in 2002.
Imagine if, instead of coming to a halt after nine years, it merely began a new chapter in the story.
Imagine if there were four more seasons, as a precusor to the long awaited 2012 Invasion Film.
Imagine new characters, new cases.
Imagine the return of the familiar, the welcome and the feared.
Imagine a new myth-arc.
Imagination brought us 10-13. Imagine what else it can do.
Imagine.
The 10-13 Universe
It's 2004, and two years have passed since Fox Mulder's trial for the murder of Knowle Rohrer. Happily in hiding deep in the Canadian rural wilderness, Mulder and his partner Dana Scully appear to have left behind their lives as crime investigators and truth seekers. But soon, they are visited by an old friend Walter Skinner, who brings both good and bad news, both shocking.
Soon the pair are pitted back into the world of the X files, solving the unsolvable and contemplating the unthinkable. However, these are often the least of their problems as they face more worth shattering events and shadow forces at work, and once more they are at the pinnacle of a struggle that sees them face old friends and foes, new enemies, deadly assassins and alien spies.
They learn that the conspiracy is not over. It's just different.
Welcome to X-10/13
Episode Index
Season 11
Season 12

TBD
TBD
TBD
TBD
TBD
TBD
TBD
TBD
TBD
TBD
TBD
TBD
TBD
TBD
TBD
TBD
TBD
TBD
TBD
TBD
TBD
TBD

Children

Unnamed Feature Length Episode
Unnamed 2012 Invasion Film

Letum

If

TBD
TBD
TBD

Messiah

Martyr

TBD
TBD

Der Untergang

Terminus

238

TBD
TBD
TBD
TBD
TBD
TBD
TBD
TBD
TBD
TBD
TBD

Apocalypto

Salida

TBD
TBD
TBD
TBD
TBD
News
Work is about to go underway for a full 27 episode plan for Season 12.