Jurassic World: Dominion Dominates Fandom Wikis - The Loop
Play Sound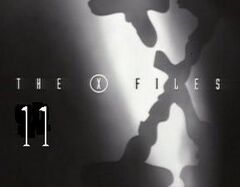 Season 11 is the second season of 10-13, and takes place three months after the events of Season 10.
It consists of 27 episodes, including two two-parters and a two-part finale.
A few months after the events in Siberia, Scully is dragged into a trial by the UN for her actions in Russia, leaving only Mulder by her side. Becoming suspicious of the shifting motives and loyalties of the FBI, the pair become embroiled in shadow movements beyond their will and understanding.
The war between Schattenjaeger and the New Consortium becomes one of attrition, a second cold war as they each hunt for the advantage. Faces from the past and worrying forebodings of the future emerge, and even the truth of the truth is in doubt
Episode List
[
]
| | | |
| --- | --- | --- |
| Code | Title | Summary |
| 11x01 | Aftercast | The United Nations open proceedings against Scully as the loyalties behind her and Mulder appear to shift. Charged with apparent irrefutable evidence, and with virtually nobody in defence, it appears that their lives and the X files are over. |
| 11x02 | The Engine Room | Back at work, the attention of Mulder and Scully is drawn to a new craze over an apparentlly haunted old industrial complex, no owned by a smart talking former marine. Further investigation begins to show that there is more earthbound sinister elements at work. |
| 11x03 | Trove I | A young Bostonian student returns home from a trip to Wales, and is immediately arrested for the suspected murder of his missing friends. The involvement of the X files becomes inevitable when the nature of an artifact he has returned with is explained. |
| 11x04 | Trove II | With Scully in a desperate dillema over the search in Wales, and Mulder suspected of losing his sanity, Doggett finds himself again cleaning up behind the scenes as the real origin of the goblet emerges. |
| 11x05 | Meridian | A mass killing, and the evidence left behind, makes Mulder believe that he is dealing with a real life example of Blood Meridian's Judge Holden. |
| 11x06 | Indubitably | A murder in an old manor house ropes in the unsuspecting Mulder and Scully, who find themselves in a situation which crosses the border of fact and fiction. |
| 11x07 | Vi et animo | The sudden spate of disappearances in Texas brings to a light an old painting of anguished faces that appears to change over time and has survived numerous attempts at destruction. |
| 11x08 | Messenger | Marita Covarrubias is approached by a former Syndicate affiliate, Andjela Radan, who has some information of use for both her and Mulder and Scully. As she attempts to bring Radan in, she learns some harsh truths about a man in her life and a shocking one about another she believed dead. |
| 11x09 | Calisthenics | Two massively built US Soldiers, proud members of a unit reknowned for extreme physical fitness, go beserk while on leave and leave a trail of destruction behind. It becomes clear a major pharmiceutical company is involved. |
| 11x10 | The World According to Morris | Bankrupt and in ruin, former man in black Morris Fletcher makes a final attempt to rescue himself; an outrageous autobiography about his life that paints an unusual picture of the people from his past and those still in the present. |
| 11x11 | Deep | A small town in Wisconsin is driven to hysteria when whispers and screams emenate from below their houses. While Scully immediately blames natural gas fumes from the town's abandoned mine, Mulder has a far more unlikely theory. |
| 11x12 | Sunset Years | When a number of people across the country with no apparent connection die of the same rare poison, Mulder and Doggett discover that the source may be a retirement home filled with some rather vengeful elders. |
| 11x13 | Ravenous | Mulder and Scully find themselves travelling back to Canada where a series of apparently cannibalistic murders have driven the locals into hiding. It's not long before claims that the wendigo is responsible begin to surface. |
| 11x14 | Black Gold | A secretive government installation in South Texas becomes the focus of the country after an incredible spree of UFO sightings over the course of a night. An understandably eager Mulder takes Scully with him to investigate, but is soon stunned to find that not only were the sightings not real, but that the source is a man known to the FBI. |
| 11x15 | Blood Debt | Chained to a wall and left to rot in a Nigerian prison cell, Dario Vukjovic contemplates his life as he tries to work out who put him there. |
| 11x16 | Nemesis | Mulder, limited to office duties following his actions during the Oliver Martin case, is approached at the J. Edgar Hoover building by a paranoid Vukjovic, who claims he has a vital item to give to him that he was imprisoned for. |
| 11x17 | Sloth | A series of murders that seem to have no perpetrator leads the Agents to a man with a non-existant outdoor life who appears to be able to enter the real world through his dreams to live out his fantasies. |
| 11x18 | Woodsman | A manhunt is under way when a forest dwelling hermit is deemed responsible for some brutal killings in New Foundland. However, some inconsistencies in evidence seems to suggest a more paranormal explanation. |
| 11x19 | Regeneration | When a dismembered body is found in a briefcase at the bottom of Lake Pontchartrain, a gangland murder is deemed the cause. When the victim appears to rebuild himself and kill the mortuary staff, however, it is clear that darker forces at work, and soon Mulder and Scully are not the only ones in the hunt. |
| 11x20 | From Within | Mulder, eager to avoid an FBI seminar, travels to the highlands of Montana on what appears to be a non-case. His plan backfires when he is pitched into a game being played by the oddly old fashioned inhabitants. |
| 11x21 | The Number of the Beast | A veteran pursuer of the paranormal contacts Mulder with a claim that he has captured the infamous Bigfoot and has it trapped in his garage. Mulder arrives with haste, but is stunned by what he finds for the wrong reasons. |
| 11x22 | The Understanding | A series of letters that Mulder receives that he assumes is fan mail quickly becomes more important when the sender becomes highly specific about cosmic events. Mulder visits the woman who sent them, a paraplegic woman who claims to leave her body and be able to explore the world's mysteries. |
| 11x23 | Malevolence | When a 12 year old girl is implicated in a murder case, she is committed Mulder and Scully investigate, and further study of the victim reveal a terrible truth leads them to believe that darker forces are at work. |
| 11x24 | Gettysburg Address | Mulder and Scully investigate when a series of disappearances among tourists visiting the sight of the battle for Gettysburg are reported. While locals believe there are evil supernatural forces at work, Scully insists on a far simpler explanation: a delusional war obssessive who may be trying to reinact his fantasy. |
| 11x25 | Fluke | When the inhabitants of a small town in New Jersey are infected with aqautic parasites, Mulder and Scully are brought in to investigate. When their search takes them down into the ancient sewer network, they find they are faced by a monster they have already encountered; the flukeman. |
| 11x26 | Ueber Alles | An alien craft crashes on an island off the coat of Iceland, sending the shadow forces of the world into a frenzy aas they battle for control of ground zero. Mulder and Scully, unexpectedly backed by the FBI, soon also travel to the island, but the craft's lethal cargo has put the lives of everyone in danger. |
| 11x27 | Everything Dies: Part 1 & 2 | With the colonists now wiping out the population of Heimaey, and Schattenjaeger resorting to extreme measures to save themselves, Mulder begins to question the good intentions of the group. With Niet Vaats still missing, Scully pleads with Mulder to leave, but he insists there is something he must do first. |